YAAAAH

Flame War with Kaije!!!!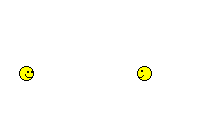 Yeah, there's not the constant interplay that there once was, for better or for worse, but there are some of us who are still very committed to collecting and conserving anime art. My impression is that it's shifted from the old "OMG look what's up on auction that is so mine don't anybody else bid on it or face the consequences" and gone more toward sales and discussion of fine points on how to house cels and sketches in a healthy way for the long term. I still find enough popping up to keep checking the auctions, and it's interesting to see how prices trend. CCS, which was hot but affordable when I started, went through a bust period when many items that would have been unattainable in the early Aughties became quite reasonable around 2010. Now it seems to have returned to its "hot" status, with prices climbing well into the 10Ks. And it's also interesting to see what is becoming pricy and competitive in early CGI sketch art: the 2003
yuuri
series
Yami to Boushi to Hon no Tibibito
("Yamibou" for short) really has attracted an avid crowd of bidders of late.
Anyhow, if you'd like to stir up something, I'd be happy to participate, and I'm sure others will too.