Frankly, I'm not the best custodian of such collectibles myself. I don't really have the best place to put them at the moment. I do try to do my best with the resources I have.
I had to handle the filmoplast with bare fingers, and work it loose from the adhesive. I messed the roll up early on, and have to fight to separate each piece from the backing strip. It's still worlds better than what was on the layout though.
I'm gonna see if I can get a picture to attach showing the improvement in the dark spots.
NOTE: Attachments are still a bit wonky, it looks like it will show up at the bottom of the post.
I likely have at least one more genga repair job in my future. Is it possible there was something wrong with the exact eucalyptus oil I bought that caused, or contributed to the spots? I remember you said "steam-distilled", I don't think what I got though.
Here's what I got. Now 100% Pure and Certified Organic Eucalyptus Oil, from GNC
http://www.gnc.com/essential-oils/05126 ... lt&start=1
Maybe something "Certified Organic" reacted with the paper?
I'm just trying to figure it out to reduce the risk of it happening in the future. It worked out well on this genga, but one made from different paper might exhibit something the doesn't go away so well. If I chose the wrong eucalyptus oil, I want to fix that.
What brand of oil do you use, sensei? Could you show me a picture of the bottle?
I know I've posted this thing like a million times, but in showing item post repair, hopefully another collector will benefit from all the knowledge and experience recorded here.
Azumanga Daioh Layout, repairs complete (I think this is the right pic. Sorry for the bad lighting.)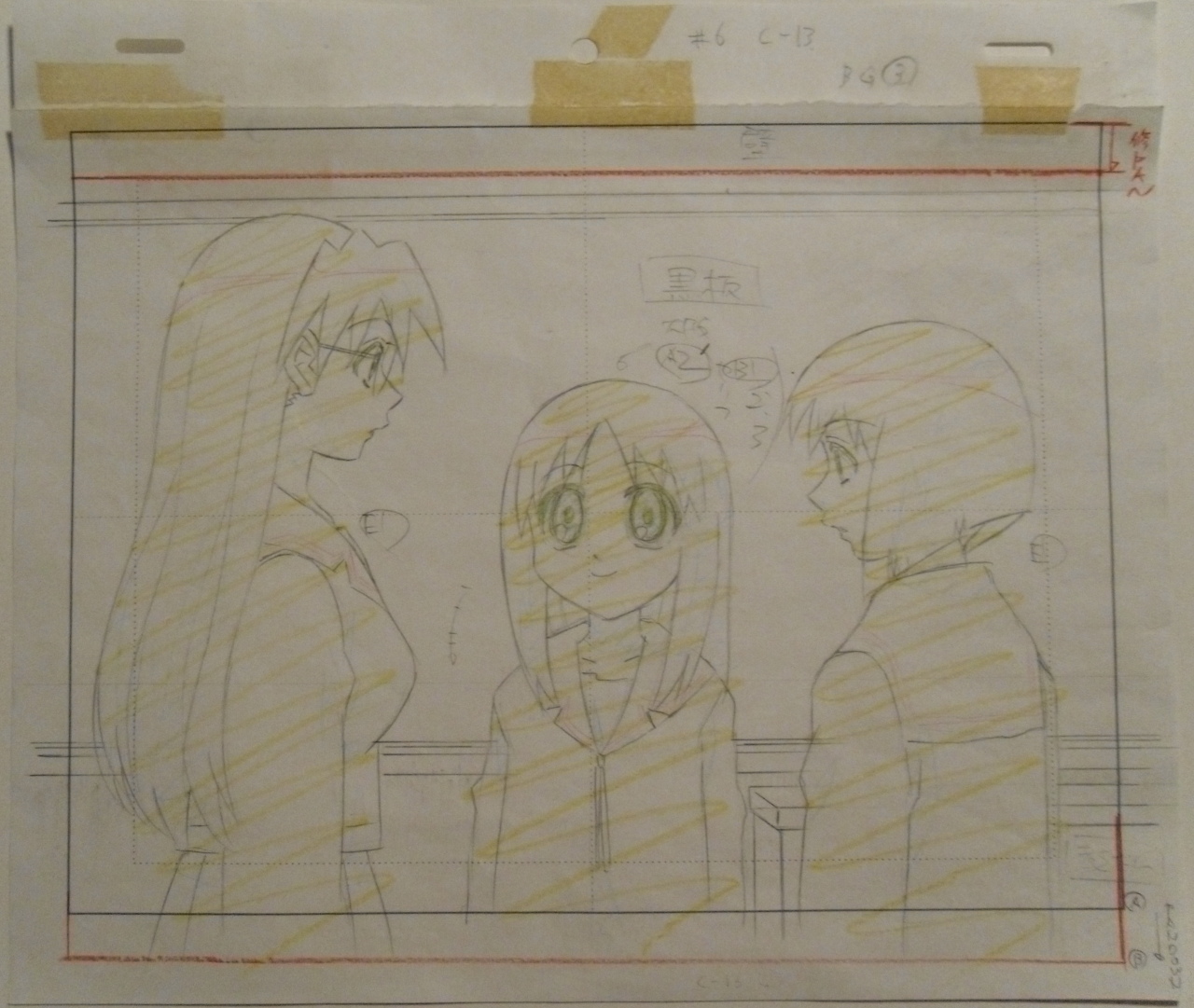 Sometimes, when I feel kind of down, I take a look at what is actually just the seller's scan of this layout, and it just makes me feel better. I can't explain why. Does that sound strange?
_______________________________________________________________________________________________________________________________________________________________
Remains of the Dark Spot, Upper Left Corner
Much, much better. With time, it may simply go away completely. In any case, it just missed Yomi, and I'm so relieved. All three girls came through the process in great shape. The one thing I can say for the bad tape was that it maintained registration until proper repair could be effected.